.

.


Unhold


Inveracity


Earth And Pillars


Nuclearhammer


Prognathe


Pseudogod


Reverorum ib Malacht


Liturgy


Much the Same


Unsu


Sühnopfer

Plus de Chroniques ?

.

.
20 ans d'Inhumate - 15/05/2010
Ville : Colmar
Salle : Le Grillen
Inhumate a 20 ans !! C'était l'occasion pour nous d'aller fêter ça en compagnie des pionniers du GrindCore français très loin là haut dans leur pays. Nous voici partis de Nantes en direction de Colmar en faisant un pti crochet par Paris pour aller choper des potes. Mappy nous l'avait dit : 1 000 bornes pour tout faire, on n'a pas voulu le croire… Après 2 000 km de route aller retour et un gros mal de dos, revenons sur l'évènement GrindCore français de 2010.

A l'instar des 10 ans de Benighted, il y a de ça presque deux ans maintenant, Inhumate a invité ses potes samedi 15 mai dernier pour un show haut en couleur et chaleureux comme tout. Au programme de cette jolie affiche, rien de mieux que Benighted, Blockheads, Yacöpsae et bien entendu Inhumate eux-mêmes !!!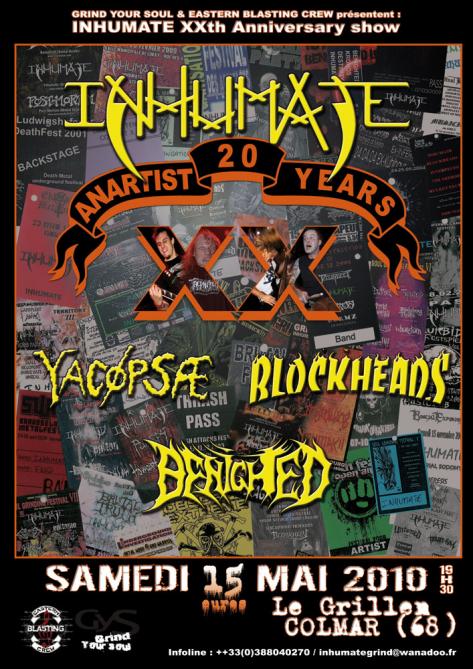 Benighted
www.myspace.com/brutalbenighted
Heavy Glam Death Metal


43 Au rond-point, prendre à droite D83 et continuer sur 19 km 7h38 841 km
44 Au rond-point, continuer tout droit D83 et continuer sur 21 km 7h49 860 km
874 km Passer par Pfaffenheim
45 Prendre à droite et continuer sur 441 m 8h03 882 km
46 Continuer tout droit D30 sur 4,1 km 8h04 882 km
47 Prendre à gauche Rue Stanislas et continuer sur 447 m 8h10 886 km
48 Prendre à droite Rue de la 5ème Division Blindée et continuer sur 278 m 8h10 887 km
49 Prendre à droite Rue de la Cavalerie et continuer sur 381 m 8h11 887 km
50 Prendre à droite Rue Rapp et continuer sur 109 m 8h12 887 km
Arrivée: Colmar, 68000, Alsace, France 8h12 887 km
« Hey les mecs il est quelle heure ??? » - « 21h15… » - « Et merde on a raté Benighted… ».



Blockheads
www.myspace.com/blockheads
Raw GrindCore


Putain enfin la première gloutte du voyage. Je te dis pas comment on l'a apprécié celle-là. Après plus de 10h00 de route d'enculé à se taper des bleds paumés avec des noms à la con, nous voici enfin arrivés, la bière à la main. Je crois que ce fut mon plus grand bonheur de la soirée et même un bonnet C n'aurait pas pu m'y soustraire. Enfin bon, même pas le temps de la déguster que les Grindeux de Blockheads montent sur scène. Le bonheur fut court, pas le temps de déguster la binouze car le pit m'appelle. On fini ça vite fait et on se lance dans le show Blockheads. Sur scène c'est aussi violent que dans le pit. Blockheads ça envoie de la purée sans s'emmerder à broyer les patates dans un blender. Non les patates s'éclatent en fait sur ta tronche et c'est comme ça que la purée se forme. Du gros GrindCore ultra violent et incisif avec un show toujours aussi violent, rempli de stage diving à tout va et d'une putain d'énergie et de bonne humeur. Rien de mieux pour recaquer un routier (du verbe recaquer oui oui).



Yacöpsae
www.myspace.com/yacopsae
Encore plus brutal GrindCore


Au bar c'est l'heure de la guerre du ticket pour avoir sa bière salvatrice. Après ce qu'on vient de se prendre dans la gueule c'est bien un moindre mal. Mais très vite c'est au tour des allemandes de monter sur scène et d'enchaîner le show comme ils ont l'habitude de le faire : c'est-à-dire ultra expéditif. Yacöpsae en live c'est toujours la même rengaine. Tu sais que tu vas pouvoir prendre ta claque, tu sais que tu vas quand même être déçu, tu sais qu'ils savent que vous savez comment va être le show et malgré tout il envoie la même scène. Dans un ton beaucoup plus rapide et violent que Blockheads, les allemands perdent en puissance lors de leur montée sur scène. Par contre ça avoine à mort et le tempo est loin d'avoir baissé en passant la frontière, c'est même encore plus rapide que Blockheads. Le pit est par contre plus mignon, moins violent même si quelques artifices explosent ça et là. J'ai bien plus apprécié ce show que le dernier que j'avais vu au Brutal Grind Assault en Suisse au début de l'année, mais malgré tout je reste encore et définitivement sur ma faim.



Inhumate
www.myspace.com/inhumate
French Bukkake GrindCore


Voici venu le temps,
du GrindCore des champs,
Inhumate dans les dents,
et ça ouvre le rang.

Hmmm… Désolé pour cet aparté digne de « l'île aux enfants » (je ne parle pas de la version pédophile), mais c'est au tour d'Inhumate de prendre la salle d'assaut et je vous emmerderai plus avec mes histoires de bière c'est promis, j'avais plus de sous !
Enfin les stars de la soirée montent sur scène, ceux qu'on attendait tous, ceux pour lesquels on s'est bougés de tous les coins de la France. J'ai pas envie de parler des pistes de tel ou tel album, on s'en branle ce soir. Non ce qui est vraiment marquant avec cette soirée, c'était la joie qui pouvait être lu sur le visage des dignes protagonistes de l'aventure humaine qu'est Inhumate. C'est le plaisir de se voir inviter l'ancien guitarise à partager la scène mais au chant pour quelques instants revival avec le groupe. La salle s'enflamme à toutes les allégations du groupe, le pit bouge dans tous les sens et fête dignement la soirée dans une salle bondée à mort (ce soir là le concert était sold out !). Les gens se jettent les uns sur les autres jusqu'au moment mémorable que les habitués de la scène connaissent bien : le stage remplying (terme inventé pour l'occasion) où tout le public monte sur la scène pendant que le groupe essaye tant bien que mal de jouer et finir sur une touche GrindCore joyeuse et chaleureuse. La famille metal j'y crois pas trop, mais la fraternité GrindCore, c'est quand tu veux gros !

Au final, on a tous passé un bon moment. Ca fait chier pour ceux qui se sont tapés jusque 750km pour être refusés à l'entrée. Pas très cool de la part de la salle pas très compréhensive mais c'est la loi.
Merci beaucoup à la Eastern Blasting Crew d'avoir organiser cette petite soirée, très expéditive pour qui vient de loin mais bon ; on a quand même fini sur le parking à picoler sur de la Dance à fond !! On se retrouve pour les 40 ans !!!
Par : Prout
Partager sur Facebook :
Commentaires sur ce concert (43)
---
A propos des groupes présents :
Fiches groupes :
Voir la fiche groupe de Inhumate
Voir la fiche groupe de Blockheads
Voir la fiche groupe de Benighted

Live-report comportant des groupes en commun :
Inhumate @ Trutnov - 07->09 Juillet 2011
Inhumate @ Douai - 13 Novembre 2010
Inhumate @ Bordeaux - 13 Mars 2010
Inhumate @ Saint-Just-En-Chaussée - 30 mai 2009
Blockheads @ Clisson - 20 Juin 2014
Blockheads @ Theix - 17 au 19 Aout 2012
Benighted @ Roexpoed - 20 septembre 2014
Benighted @ Saint-Nolff - 15, 16 et 17 aout 2014
Benighted @ Albi - 1, 2 et 3 août 2014
Benighted @ Clisson - 21 Juin 2014
Benighted @ Eragny et Paris - 11 et 12 mars 2014
Benighted @ Toulouse - 04 Mars 2014
Benighted @ Rennes - 25-26 octobre 2013
Benighted @ Vernouillet - 27/10/2013
Benighted @ Paris - 26/04/2013
Benighted @ Limoges - 14 et 15 Décembre 2012
Benighted @ Toulouse - 21 Février 2012
Benighted @ Vosselaar (Belgique) - 15 Décembre 2011
Benighted @ Saint Maurice de Gourdans - 9 et 10 Septembre 2011
Benighted @ Dinkelsbühl - 17, 18, 19 et 20 août 2011
Benighted @ Tilburg - 30 Avril 2011
Benighted @ Toulouse, Nantes, Valencienne, Dunkerque et Paris - 11, 13, 15, 16 et 17 avril 2011
Benighted @ Douai - 13 Novembre 2010
Benighted @ Chelles - 24 octobre 2009
Benighted @ Rennes - 10 avril 2009
Benighted @ Bordeaux - 14 mars 2009
Benighted @ Clisson - 21 juin 2008
Benighted @ Tillburg - 30 Mai 2008
Benighted @ Chaulnes - 22 et 23 mars 2008
Benighted @ Bourg-en-Bresse - 25 Janvier 2008
Benighted @ Paris/Lille - 5 Novembre 2007
Benighted @ Paris - 12/11/2006
Benighted @ Paris - Dimanche 28 Mai 2006
Benighted @ Le Mans - 25 Juin 2004